Quit the bitching on your blog,
And stop pretending art is hard!
Just limit yourself to three chords,
And do not practice daily!
You'll minimize some stranger's sadness
With a piece of wood and plastic.
Holy f*ck it's so fantastic, playing ukulele!
Today's blog entry courtesy of my colleague Rob who gave his daughter a ukulele for her birthday yesterday. Anyway…
Thursday
Woke early (5am) after struggling to get to sleep. J had it even worse, not getting to sleep until 1, worrying about how we're going to manage to try to work from home with kids around and pay the childcare bills for the youngest, whose nursery needs to keep charging.
Dropped the kids off at nursery and with the childminder; mention that if she's available we might need her services for different hours for the foreseeable future, though we don't know exactly when yet; we're trying to work out . Her daughter's just had her A-Levels cancelled. Back home, picked up the bike and went for a ride. Can't say I've noticed the streets being much quieter as yet. Get home feeling not a huge amount better for the exercise. My Fitbit failed to sync with the phone so there's no GPS track. Annoying, but pretty much the definition of a first world problem.
Headed to my desk and pinged my boss (who's leaving in two weeks) and his interim replacement, D, on Slack letting them know that I don't know what's going to happen to my work pattern. I get back a response that looks like it's been copied and pasted from a "what to say to employees who express concern about work patterns" guide somewhere. Hopped onto a video call with him and take the piss at his ability to write corporate boilerplate, and agree that for on some days I'll be working on a best-effort basis. This is uncharted territory for us all.
Popped out around 10:30 to get some bread from the Co-Op. They have almost nothing at all. Fortunately a bread delivery arrives while I'm there. I buy a loaf and some eggs and head back. They're queueing out of the door at the butcher's shop – never seen that before except at Christmas. Headed back home, got my head down and do some work, including interviewing a frankly fantastic candidate for the opening on my team.
The kids come home about 6pm; Sleeper Jr. has been issued with a skipping rope to help with doing PE at home, along with logins for remote teaching resources. The school are going to continue to set work every day, so there's that.
We call my mum on FaceTime, to see how she's doing and reiterate both my brothers' insistence that she stays away from people as much as possible. By the time we get the kids into bed it's gone 8pm, much later than usual.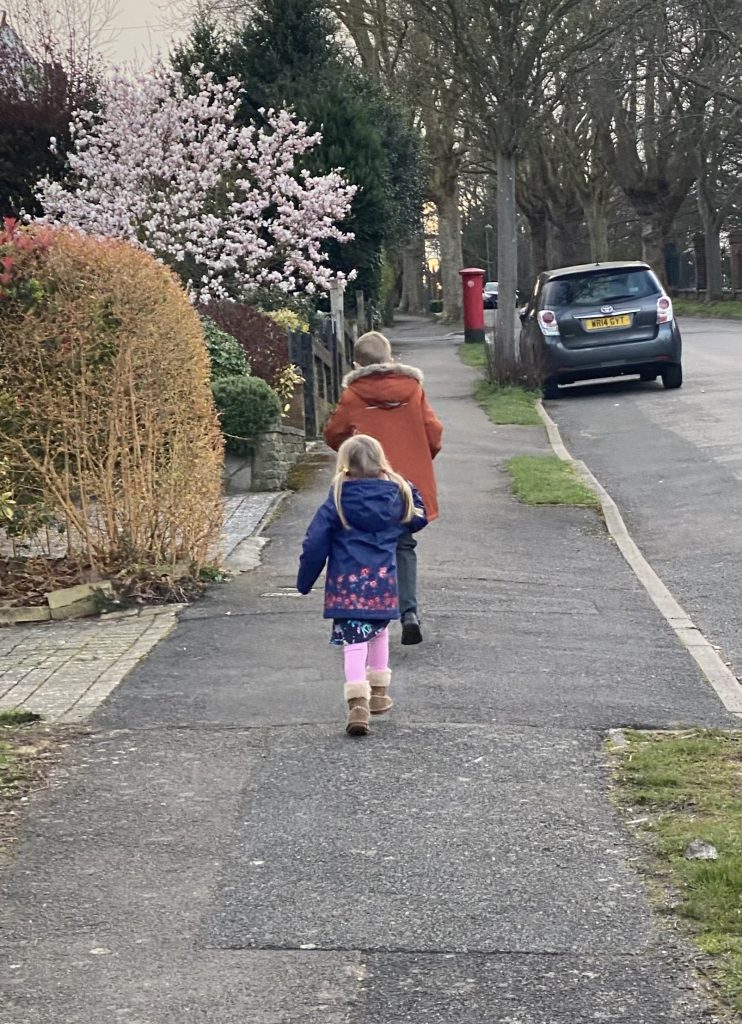 Friday
Dropped the youngest off at nursery; there was a really odd air of melancholy there. Many of the kids won't see each other again; they'll be off to school in September, all over the place, and who knows when the nursery will re-open? Drop t'other one off at breakfast club; they're not expecting so many people today, and only have one of their two rooms open. One of the other parents mentions the list of Key Workers is a lot longer than they expected; sure enough IT infrastructure for Telecommunications Companies is there; I don't think keeping the front door of the website open counts; my boss later suggests it could be argued that way – if we can't deliver on our current project, we can't accept payments, and we'll be out of business fairly quickly. Don't really see it that way myself. Anyway, as it happens it seems like there are fewer places available than there is demand at the school. There are people who need the availability more than us.
Working day was quiet, heads-down, get stuff done. After a few meetings (including the now-daily 4:30pm "blow off steam" Slack call), headed out to pick up from the nursery.
"We'll still be doing the graduation, at some point," said K, the manager. That'd usually take place in July; who knows what's going to happen by then. She looked like she's been crying, or at least trying very hard not to. She was definitely trying to be cheerful for the kids, who had an impromptu party and a disco this afternoon, complete with crisps! and party rings!
Back home, jumped on a Zoom call to discuss strategy for the next few days; work is in a crunch period. I lighten the mood a little bit by having Sleeper Jr. on the call. He's asked if he can help out with the Oracle issues and responds with a bemused smile. He's not doing so well emotionally; it's been a massive change pretty much overnight.
"Can we call Grandma?" came the question. Of course we can, I replied, Grandma always loves talking to you. One child over effervescent, and the other barely speaking, we managed the call and put the kids to bed. Who knows what tomorrow will bring?